Feel free to join in, link up and do your own "5 Question Friday" if you'd like!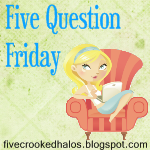 1. Have you ever had surgery?
Not until after Cade was born.  6 weeks after he was born I was at a Vikings vs Packers party at my sister's house when I had severe stomach pain. We drove our mile home, and I decided we needed to head to ER.  Cade was born October 11th, and I was having my gallbladder taken out the day after Thanksgiving.  It was pretty uneventful.  The worst part was the nurse who couldn't figure out how to get my IV in.
2. Ever ride in an ambulance?
Nope, but Kirk has had at least 2 experiences in an ambulance.  One was with Cade when he was small, and he had croup so bad we were pretty scared.  We had just gotten him settled down watching a VeggieTale when several large men appeared trying to force Cade to wear an oxygen mask.  This freaked him out and caused him to go into a coughing/not breathing fit all over again.  We waited for the ambulance for FOREVER.  We learned that in a similar situation we would save ourselves the $600 and take Cade ourselves.
3. How are you in a medical emergency? Panicked? Calm?
I haven't really been in that many emergency situations.  When I was a camp counselor and we were playing some type of "Capture the Flag" game I came upon a camper with her shin bone sticking out of her skin.  Someone stayed with her while I ran to the camp office.  Again, Kirk has had much more experience in a variety of emergency situations which I will let him tell on his blog someday.  He is quite good in an emergency situation though.  He is calm and decisive and jumps into action.
4. Do you have a garden? Flowers or veggies?
Both.  With 20 acres it's easy to think you can garden way more than what you can realistically weed though.  By the end of last year I was so sick of the weeds (we had so much rain it was crazy) that I told Kirk, "This is going to all be grass next year!"  Many months later I have resolved that I am ready to tackle it again on a smaller level this year.  We love the fresh beans, lettuce, squash and tomatoes etc.
I am a fan of perennial flowers in the thought that you plant once and they keep coming back, but it doesn't always work that way especially in this climate:).
5. When did you move out of your parents house?
I moved out when I went to Northwestern College (as a sophomore) and lived in the dorms.  I moved home for a couple months and was married August 1st.  I then moved into the church parsonage with Kirk in Edina, MN.  I was almost 20, but that is a whole other post:).